House Cleaning
The Clean Team
Our cleaners work in teams of two or more depending on the size of the job. Cleaning jobs are scheduled in an order that requires the least amount of drive time for each team. BigDog will make every effort to accommodate your requested time however these times are not guaranteed.
Our Responsibilities
BigDog agrees to provide cleaning services that include the following:
Provide all labour, standard equipment and standard supplies required to perform the services agreed to
Vacuuming of carpets, dusting, and polishing of furniture; cleaning of wood floors, kitchen appliances, bath tubs and shower stalls, toilets, sinks and all sink fixtures;
Removal of rubbish from the interior rubbish containers and deposited in the outdoor Council provided wheelie bins.
Be respectful while in your home. They will not smoke, eat or drink while in your home, nor do they watch TV or play the radio.
Their only purpose while in your home is to clean.
Your Responsibilities
Give the Clean Team access to the inside of your house during regular business hours and any additional mutually agreed upon times.
Remove or store any clutter. The Clean Team will not remove clutter in order to clean.
Not to offer any cash, gifts or rewards to the Clean Team
Inform BigDog of any incident where an accident, breakage, damage to property or theft has occurred due to any act of the Clean Team within 24 hours.
Pets should be secured and that you pick up after them.
Special Requests
Call us for special requests (i.e. after construction, refrigerator cleaning, inside of oven, inside windows, garage, extra rooms) so we can schedule the time needed to complete these tasks.
Enquire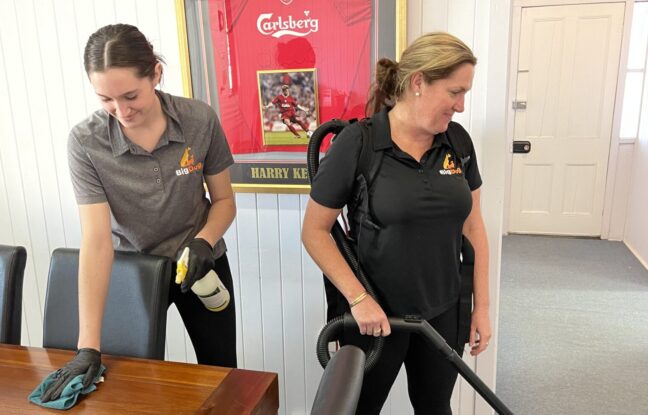 Also in Disability Services
Great staff, interesting activities. My son loves BigDog.
Mandy Hall Hartfiel